---
Lecture & Workshop Presentations

Entire Contents Copyright © 1998–2010 CBH
---
COURSE PROPOSAL
LIVING WITH A HARPSICHORD
Aim
Unlike the complicated modern piano, the harpsichord action is easy to comprehend and adjust—when you know how. This is a practical, hands-on workshop to help technicians, teachers, students and players understand how the harpsichord works. All participants will leave the course with a good understanding of the jack action and the confidence to be able to make minor repairs like voicing a quill or replacing a string. Tuning is only covered in passing because of its comprehensive treatment in the full Tuning Without Tears Course.
Prior Knowledge or Experience Required
No previous experience in harpsichord maintenance will be assumed. While the course will be of special value for players wishing to understand more about the insides of their instrument, it will also prove very useful to modern piano tuners and technicians. No musical knowledge is expected, just a love of the harpsichord and an eagerness to understand and come to terms with its idiosyncrasies.
Structure
An intensive full-day workshop. Because of the small group size and practical emphasis, frequent feedback will be encouraged throughout by way of informal question and answer sessions.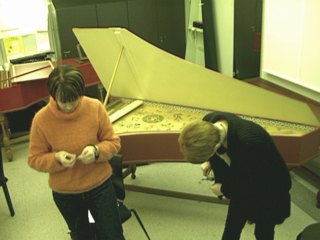 CAREY BEEBE
Students honing their stringing skills
during a recent workshop at the Sibelius Academy, Helsinki
Topics covered
How the Harpsichord Works
A Brief History of the Instrument
The Difference between Virginals, Spinets and Harpsichords
The Historic-style Instrument vs the Revival Harpsichord
Essential Tools and How to Use Them
String Replacement
Voicing a Plectrum
Diagnosing Some Common Problems, and How to Rectify Them
Some Tuning Considerations
How to Move the Harpsichord Safely
When the Harpsichord Really Needs Professional Help
Where to Find Further Information
Course Notes
A multi-page handout including Bibliography will be provided to all participants.
Equipment required
Whiteboard & markers OR Overhead Projector & screen
Push-Button Slide Projector
Harpsichord
Suggested maximum participants 15
---
---
---