---
Shanghaied!

June 2010
Copyright © 2010 CBH
---
---

CAREY BEEBE
New Pudong, Shanghai from The Bund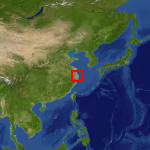 NASA VISIBLE EARTH

Harpsichords in China are still pretty scarce, and it's a perennial problem for visiting musicians to find suitable instruments for their performances. Travels in China are always most interesting for a Westerner, and no matter how thorough the preparations, there is always the unexpected to deal with and enjoy.
As part of the 2010 World Expo happenings, a Dutch Culture Centre was located in a renovated factory complex in downtown Shanghai. Various exhibitions, live performances and conferences were programmed by the Netherlands China Arts Foundation. Part of the first series of events in late May was a visit by musicians from The Royal Conservatoire of The Hague, one of the premier early music institutions in the world. Three concerts and two masterclasses were scheduled with counter-tenor Michael Chance, baroque violinist Elizabeth Wallfisch, harpsichordist Albert-Jan Roelofs, and young professionals from their graduate program. An entourage of Den Haag city officials and embassy staff also converged on Shanghai the same day, eager to share the best of what their city and country offers.
And so, hot off my flight from Hong Kong on Sunday May 30—having prepared the harpsichord in Shenzhen Concert Hall the previous night for Trevor Pinnock—I met the Dutch musicians at our hotel and we hit the road. There are only three harpsichords in Shanghai, and even though we had been planning the trip for several months, nothing was certain until we arrived. I was very grateful to have the help and knowledge of two locals: Li Weicong (李瑋聰), a young physics graduate from Shanghai's Jiaotong University who had been corresponding with me about harpsichord making since the beginning of the year; and Zhang Yiming (张奕明), a piano Doctoral student at Temple University in Philadelphia with a special interest in early music and fortepiano who was back in Shanghai for a period.
First stop was the venerable Shanghai Conservatory of Music, where I spent several wonderful days in 1994 at the behest of Joyce Lindorff, revitalizing their 1961 Neupert Bach model harpsichord. We met Mr Ding Wei (丁伟), who had been at the Conservatory for thirty years and was now Director of the Properties Office. Although we found the harpsichord on its legs in the back corner of He Luting Concert Hall's (贺绿汀音乐厅) airconditioned piano store room, the pedals were detached and it was completely unplayable. It had taken only fifteen years for a few parts to go missing and neglect to set in, so it's quite understandable that none of the remarkable keyboard instruments that were brought from Europe in Pedrini's time centuries ago managed to survive this country and climate.

CAREY BEEBE
Neupert Bach model harpsichord as found at the Shanghai Conservatory
We connected the pedals and in less than half an hour, I was able to pull the very flat back 8⁠´ choir up to pitch, and rustle some encouraging plucks out of most notes of the lower manual. There were still a few things seized up that would take more work to correct, along with a few broken strings to replace, but Albert-Jan could knock out a tune and was cautiously optimistic that there would indeed be a real harpsichord to play, whereas the Holland Baroque Society regrettably had to make do with a plug-in substitute for their Shanghai performances a few days previously. We made arrangements for the heavy Neupert to be picked up first thing the next morning and taken to the DCC for a little more technical coaxing before the afternoon rehearsal and evening concert.
Next stop was the Shanghai Symphony Orchestra. They own a little Flemish-style harpsichord built by a Japanese maker in the late 1970s or early 80s and donated to the Orchestra. I had worked on the instrument on two previous visits to Shanghai, most recently in 2001 for Japanese harpsichordist Mihoko Kagawa, who was expecting to perform with her group at the Shanghai International Arts Festival that year. In those days, my contact was the wonderfully warm and amiable translator Mr Wen Tan (温潭). He was quite elderly even then, and retired some five years ago. With change of management, communication was proving more difficult, and as my three eMails in March had not elicited a response, I resorted to two faxes and even had Li Weicong call—all ignored. The Dutch had been told the previous week that the Symphony harpsichord was lost, but this obviously wasn't the case because we saw it in the flesh. Again, it was in poor shape and had obviously befallen disaster since my last visit. The registers were frozen solid and the treble bentside hitchpinrail had failed with a wide soundboard crack in the treble. Nonetheless, the back 8⁠´ was basically playing, and being a more historic and preferable alternative to the Neupert Bach model, negotiations were commenced for its hire at the mildly exorbitant rate suggested by the orchestra. However, we were phoned later that afternoon to say it would not be possible to hire the harpsichord because it had to be used by the orchestra that week—something one of the musicians who knew the schedule later denied! (This is perhaps a common Chinese technique for refusal, where one person in an organization charged with responsibility makes a decision which does not necessarily reflect the opinion of the whole: Several of the orchestral musicians attended the concerts and were aghast at the treatment we were accorded.)

CAREY BEEBE
Neupert Bach model harpsichord attracting attention during interval at the DCC
Only one harpsichord remained for us to see—and probably the best was last. We left this visit until normal office hours Monday morning, and caught a taxi across town to the Shanghai Oriental Art Center. Again, multiple eMails, international faxes and calls since February were not eliciting an appropriate response, so we arrived virtually unannounced. We were able to meet Mr Li Jia (李佳) the Senior Concert Technician, who took time from his busy piano tuning schedule to allow us to see his well cared-for Neupert Blanchet Double, a twin of the one from Guangzhou which I had tuned the previous Saturday in Shenzhen Concert Hall. The only problem with this harpsichord was the continued reluctance of Center management to reveal the actual responsible person in the local government office who had the authority to negotiate its use. One would have thought this a relatively straightforward request, but not here: The ways of doing business in China do appear quite obtuse at times to a Western mind.
And so, with a bit more work including blowing all the dirt and insect residue out, replacing the broken strings, some easing of frozen tongues and myriad other adjustments, one choir of Shanghai Conservatory's fifty-year old Neupert Bach model was ready to sing as best it could. I sent Yiming and Weicong out to find some polish to spruce up the case exterior, because a harpsichord that looks neglected will never sound nice. The concerts and masterclasses were able to proceed, although a little sadly with this harpsichord only a ghost of its former self and probably the type of instrument that would not have been heard for this type of music in Europe since the 1960s. Nonetheless, the harpsichord as an instrument—so rarely heard live in Shanghai—attracted a lot of attention at interval.
The real stars to shine were the Dutch musicians, whose professionalism was beyond reproach. Special mention should be made to the bravery of Italian graduate Lorenzo Feder who insisted on performing his programmed f-minor Bach Concerto BWV1056. The Tuesday night show was solo violin and harpsichord with Elizabeth Wallfisch and Albert-Jan Roelofs, and what a wonderful concert that was, with little evidence of our trials of the past few days.
Several reports appeared quickly on the Chinese blog site Douban: 1, 2 along with an essay written by the Music Media Yaran.
We must be very grateful to the generosity of Shanghai Conservatory for the use of their harpsichord, and can only hope for better success next time so that the music lovers in Shanghai can truly appreciate what the best early music practitioners offer.

---
---