---
Handel Great Suites

January 2017
Copyright © 2021 CBH
---

NASA VISIBLE EARTH


ABC CLASSICS
Handel Great Suites CD cover
ABC Classics 481 5711
Complete CD booklet is available here.
This is the background to an original instrument recording project.
The restored 1773 Jacob & Abraham Kirckman had made its debut with Richard Egarr directing the Academy of Ancient Music in Sydney's City Recital Hall on Saturday November 9 2013. That program was broadcast live on ABC Classic FM, but it wasn't until more than three years later that the opportunity came to create a permanent commercially-available recording of the instrument.
Toby Chadd, then Label Manager of ABC Classics and Jazz, was receptive and enthusiastic. Australian harpsichordist Erin Helyard's career was ready to benefit from release of a debut solo album. The late eighteenth-century English harpsichords were instruments which played all of the repertoire, and the chosen program of Handel and Babell was ideal to showcase the versatility of both performer and instrument.
We had musician, repertoire, and instrument.
In late January 2017, I moved the Kirckman into the Eugene Goossens Hall at the ABC headquarters in Ultimo, Sydney, and gave it a quick tuning. Erin had a solid week by himself to become familiar with the original instrument before we would commence recording in that space, deciding registration for the chosen pieces but especially getting acquainted with the intricacies of the machine stop. That very special device endows the 1773 Kirckman single-manual instrument with powers of expression: In usual operation, all three choirs sound, and the player operates the pedal to turn the 4⁠´ off, followed by the front 8⁠´, leaving only the back 8⁠´ sounding. This produces a diminuendo—and a corresponding crescendo back to full harpsichord as the pedal is slowly released.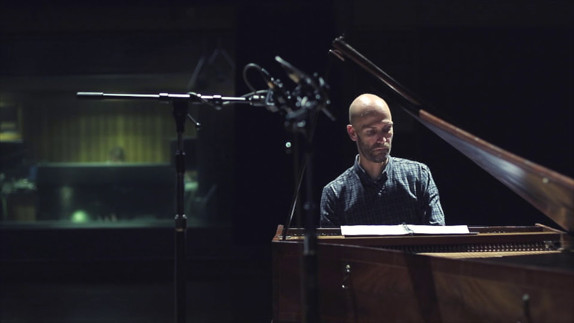 HAMISH LANE / ABC CLASSICS
Erin recording on the 1773 Kirckman
Three recording days were allocated from Monday January 30 in Goossens with star ABC Classics engineer and producer Virginia Read. Hamish Lane took some wonderful stills during the sessions which now grace this page, along with links to a few videos he shot including a " TITLE="Carey Beebe discussing the 1773 Kirckman harpsichord: 3 minute 38 second YouTube movie." TARGET="_blank">short interview with me discussing the instrument and the project. Late January was a busy period because Nigel Kennedy was also in full flight with his electric Four Seasons program: Nathan had to fly to Melbourne to cover the two performances there using my 2003 Ruckers Double there while I remained in Sydney to tend the Kirckman.
Production was completed, and Erin's debut solo album was released on August 18 2017 on the ABC Classics label, where it can be purchased. The album is available on all online music services, or you can sample each of the tracks for free on iTunes or Spotify.
Many harpsichord recordings are sadly not great representations of the instrument used, let alone prove good ambassadors for those who might be discovering the harpsichord for the first time. I'm completely satisfied by the trouble taken by all involved to bring this project to successful fruition. It was a pleasure to work with Erin, who I've known since before he entered the Sydney Conservatorium to begin his BMus degree. The sound of the two-hundred and forty-four year-old instrument captured by Virginia in my opinion is magnificent, neither too closely nor too distantly miked. For technical boffins, the recording setup can be seen in one of the pictures below: The higher pair of microphones in the picture are Sennheiser MKH 20 omnidirectional condensers and the lower pair are Sennheiser MKH 40 cardioid condensers. The resonance you hear is entirely natural and comes from within the instrument itself: No artificial reverb was added. This richness of tone is particularly noticeable when just a single 8´ is playing, as Erin uses in Babell's keyboard transcription of Lascia ch'io pianga, and is caused by the dampers being open cut, allowing all the strings of the unused choirs freedom to resonate.
This landmark recording was launched on Monday October 2 in the Tallis Wing of the Melbourne Conservatorium, with wine, cheese and a brief presentation by Erin and myself. You can read more about our collaboration—-and how that fed into this recording—in a Melbourne University Precinct article titled "Reassessing Handel with the help of a restored 1773 Kirckman harpsichord".
Various other links appear here:
---
---

WORK
MOVEMENT
TIME
TRACK

---

GEORGE FRIDERIC HANDEL 1685–1759
Chaconne in G Major For Harpsichord, HWV 435
7:28
1

---

Harpsichord Suite Set I No. 2 in F Major, HWV 427
Adagio
3:16
2
Allegro
2:03
3
Adagio
2:01
4
Allegro
2:34
5

---

Harpsichord Suite Set I No. 4 in E Minor, HWV 429
Allegro
3:59
6
Allemande
3:08
7
Courante
1:59
8
Sarabande
5:38
9
Gigue
1:45
10

---

Harpsichord Suite No. 5 in E, HWV 430 The Harmonious Blacksmith
Prélude
2:30
11
Allemande
5:29
12
Courante
1:49
13
Air et Doubles
4:18
14

---

Harpsichord Suite No. 6 in F

♯

Minor, HWV 431
Prelude
1:59
15
Largo
2:36
16
Allegro
3:04
17
Gigue
2:46
18

---

WILLIAM BABELL c.1690–1723
The most Celebrated Lessons • Suit[e] No. 1 in F Major Rinaldo

Prelude (Presto)
1:13
19
Overture (Vivace – Allegro)
3:46
20
Overture (Adagio)
1:01
21
Gigue (Presto)
1:07
22
Soura Balza (Vivace)
4:43
23
Lascia ch'io pianga (Adagio)
5:29
24
Sulla routa di fortuna (Presto)
3:32
25

---

The most Celebrated Lessons • Suit[e] No. 4 in G Major Rinaldo
BONUS TRACK ONLY AVAILABLE ONLINE

Vo far guerra (Allegro)
11:05
26

---

The Handel Great Suites album can be found on all online music services:
The complete CD booklet is available here.

---
---

HAMISH LANE/ ABC CLASSICS
1773 Jacob & Abraham Kirckman harpsichord in the Eugene Goossens Studio at ABC Ultimo, Sydney
---
---

A short interview with Carey Beebe on his 1773 Kirckman, shot by Hamish Lane during the Great Suites ABC recording sessions. (繁体中文字幕。)

---

Erin Helyard performs The Harmonious Blacksmith from Handel's Harpsichord Suite No. 5 in E.

---

Erin Helyard performs William Babell's keyboard transcription of Lascia ch'io pianga from The most Celebrated Lessons Suit[e] No. 1 in F Major Rinaldo.

---
---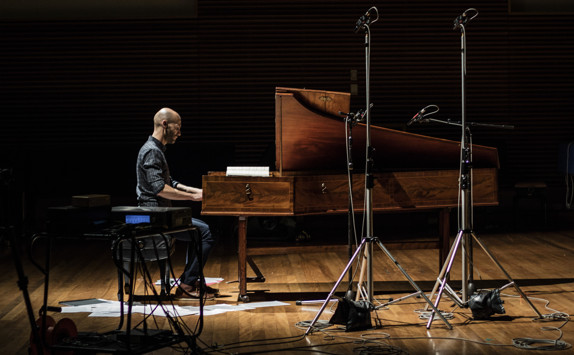 HAMISH LANE / ABC CLASSICS
Another shot of Erin recording on the 1773 Kirckman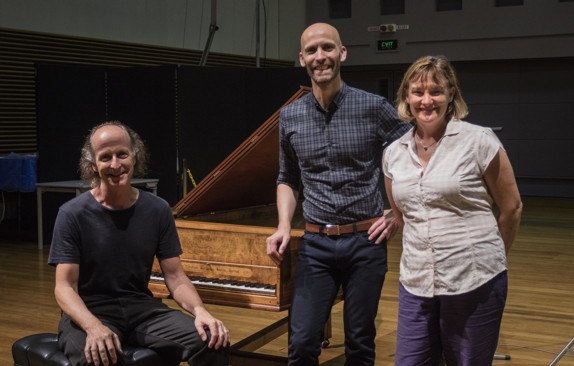 HAMISH LANE/ ABC CLASSICS
Carey Beebe, Erin Helyard & Virginia Read
---
---