---
Wolfgang Amadeus Mozart

Copyright © 2005 CBH

---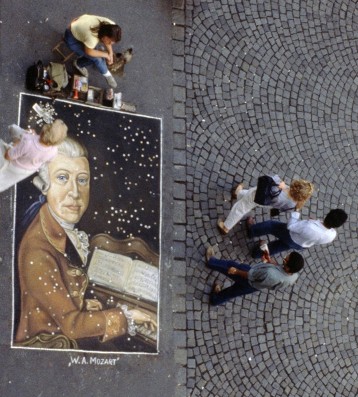 CAREY BEEBE
Unknown chalk artist's work outside Mozart's birthplace
on Getreidegasse, Salzburg
The year 2006 will see music lovers around the world celebrating the 250th anniversary of the birth of one of the greatest musical geniuses of all time—Wolfgang Amadeus Mozart. Yes, he even has his own birthday website.
When I first visited Europe in 1985, the old city of Salzburg was a place I felt I could drop my bag and never leave. Frommer's book extolled that you could do Europe on $25 a day then, although it's now $85 a day.
If you are visiting Salzburg, begin where Mozart was born on Getreidegasse. Three floors of his first home are a museum. There are other Mozart museums around town and you can find details at the Internationale Stiftung Mozarteum Salzburg.
If you're an opera lover, you can revel in performances of all of Mozart's stage works as part of the Salzburg Festival in the northern summer.
In Sydney, though, Opera Australia is embarking on its own celebration of fifty years of opera, and will perform Mozart's Requiem in a special concert performance in March, as well as The Magic Flute from February 20 and La clemenza di Tito in July.
To just study the music and the man, begin at Bärenreiter's Mozart portal…
---
---
The Fortepiano after Stein

Double strung throughout
Hand operated moderator, knee lever sustain
One 61+1-note reverse keyboard FF–f''' A415/A440
Honduras mahogany roundtail case
Four turned and fluted legs, solid frame and panel lid
Viennese action setup by Carey Beebe
Kangaroo skin hammer coverings
D. Jacques Way Stonington 1986

Available for hire.
---
---