---
Technical Library

TROPICS II: Wooden structure

Entire Contents Copyright © 2010 CBH
---

CAREY BEEBE

Soundboard expansion with high humidity leading to bellyrail glue joint failure
Hong Kong
Wooden structure…
Most harpsichords are made of wood, and all wood is hygoscopic: With a general increase in humidity, wood expands across the grain, but negligibly along the grain. If you allow wood to expand say only 1% between a very dry day and a wet one, that means that your thin and sensitive soundboard wants to expand at least 9mm across the width of the instrument. It cannot force the case any bigger, so the only way your soundboard must accommodate humidity change is to rise or fall. If controlled by design and manufacture, and the soundboard rises slightly rather than falls excessively, this may not cause any problem other than a minor change in regulation. (The stringband obviously must rise and fall with the board, so will change tolerance with the action. This is discussed under the Action section.)
If the soundboard deformation is excessive, you often first notice some buzzing in parts of the compass:
The 4⁠´ bridge can drop, or the rose area can rise up, either instance causing some of the 4⁠´ strings to foul on the soundboard or rose.
The 8⁠´ bridge can drop, causing a few of its strings to perhaps just buzz annoyingly against some of the 4⁠´ bridgepins, or, in more serious instances, be completely blocked for much of the compass by the 4⁠´ bridge.
Either of these conditions require some professional attention to render the instrument playable. Sometimes areas of the board can be skillfully tied down without affecting the tone. In cases of more drastic deformation, additional ribbing may be called for to provide support under the soundboard. Access is required inside the instrument for these sort of repairs.
The expansion of wood with moisture uptake is often quite remarkable, and is so strong, it can result in glue joins breaking asunder.
The photo at the left shows on an instrument living for some years in Hong Kong, where an area of soundboard near the spine had expanded in the extraordinary humidity, lost adhesion with the bellyrail, and bubbled upwards to interfere with the 4⁠´ strings. (This instrument was quite playable for many years with the temporary and practical fix of the owner, raising the offending 4⁠´ strings at the nut with matchsticks: The bellyrail area was reglued on my visit in May 2003.)

---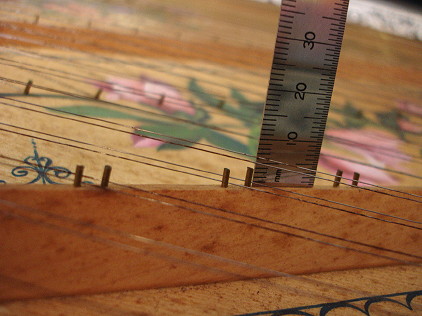 CAREY BEEBE

Soundboard drop resulting in strings tracking more than 6mm above bridge
Singapore
---

CAREY BEEBE

Separation of the lid glue joints
Singapore
---

CAREY BEEBE

Cheek/bentside corner joint under stress
Macau
---
---
---