---
Technical Library

MOVING XXI: Musical Instrument Insurance

Entire Contents Copyright © 2014 CBH
---
Quick hints for arranging insurance…
Ask around and choose a reputable company.
Read the documentation carefully and know exactly what you are buying.
Know what your instrument would cost to replace, and insure it for that full amount.
Be aware of your duty of disclosure.
---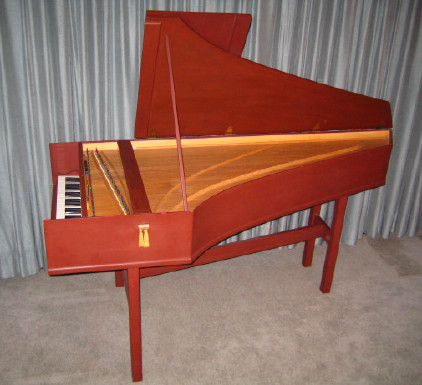 1978 Zuckermann Flemish Single Harpsichord
Fair market value in Sydney, July 2012: AUD6500
Replacement cost with new: At least AUD20000
Musical Instrument Insurance…
If you don't think you can easily afford to replace your harpsichord when disaster befalls, perhaps you should consider insuring it—especially if your instrument provides your living.
You have several choices. The easiest could well be to ask the company which provides your domestic home contents insurance if you can include your musical instrument(s) in your existing policy, particularly if it doesn't leave the house. Some companies may require items over a certain value to be specified in the policy. Cover may or may not be extended to the item if moved outside, or a condition may be attached like having to inform the company each and every time before a move is undertaken, up to certain maximum number of moves per year. This can prove inconvenient and even onerous.
A better alternative—particularly if you are a professional musician—might be to find a proper musical instrument policy. Some insurance companies have specialist musical instrument divizions catering to this market. Worldwide cover is often a standard benefit, or available at additional premium. Increased risk means the likelihood of higher premiums from those companies which offer a policy tailored for rock musicians, rather than those focused more on classical music. Some companies offer professional discounts for musician union members, or provide insurance as a benefit of membership of a particular association. It is often not possible to arrange this type of insurance direct with the insurance company, but only through the intermediary.

AIS
Read the fine print of any policy carefully
Either way, you must insure any instrument for its full replacement cost. This is particularly important in those policies which have a co-insurance clause—commonly found under fire coverage in Australia. For example, if you had specified a value of only $10000 when taking out the policy, but it was found in the event of a claim that the true loss was $20000, you would be deemed a "co-insurer" taking a proportion of the risk yourself. In that instance, you would receive only $5000 (50%) proceeds from the claim. You can appreciate the danger because it is futile to expect to buy a $20000 harpsichord with only $5000.
Many insurers require a written valuation for the instrument to verify that the requested insured value is indeed realistic. (We can provide one for a small fee: Please ask.) The true replacement value of an instrument often surprizes owners, as it can be well in excess of what they may have paid for the instrument many years ago. The replacement cost can vary considerably from the fair market value of an instrument because of factors like make, model, age, decoration, condition, supply, demand, locality, economic conditions, and international currency fluctuations.
Be a conscientious consumer: Like most things, with insurance you tend to get what you are prepared to pay for, although there can be a large difference in premium between seemingly comparable policies.
Note that some events are almost impossible to insure against. You will not find cover for design defects, faulty workmanship, insect or vermin attack, climatic effects, fair wear and tear, poor packing, or maybe even for damage when the instrument might have been entrusted to a repairer. Some policies may not cover for theft from a vehicle. Always read the policy exclusions carefully. Compare policy wordings to determine which policy might best suit your needs. Ask professional musicians in your city or the management of your local orchestra which insurance company they use, and what their experience has been if they ever had to make a claim under their policy.
---
---

DISCLAIMER: The advice on this page is only of a general nature and does not take
your particular circumstances into account. These links are provided to aid your further research
and do not constitute a recommendation or otherwise for any particular company, whether listed here or not.

---

SOME MUSICAL INSTRUMENT INSURANCE PROVIDERS
AUSTRALIA

---

UNITED KINGDOM

---

UNITED STATES of AMERICA

---
---
---
---