---
Custom Instruments
Copyright © 1998–2016 CBH

---
A little about my philosophy…
It could well take a lifetime to perfect just one of the many skills required to build a truly superb musical instrument like a harpsichord. Here is my story.
Like many modern makers, I discovered the joys of the harpsichord as a teenager building a Zuckermann French Double kit with the help of my father. At that time, a colleague of Wolfgang Zuckermann was the Australian agent: John Norman ran a business in Canberra known as "The Harpsichord Centre". After I had built another couple of instruments, John was keen to return to English soil for his retirement, and approached me about taking over the business. With the blessing of the head of Zuckermann, David Way, I was able to do this, and at twenty one years of age became the youngest ever International Agent for Zuckermann Harpsichords Inc.

HINRICH MÜLLER

David Way thinning a soundboard with Carey Beebe
Stonington 1983
With my music degree finished, and my peers heading overseas for further study, the United States beckoned, not for performance, but for my particular interest in harpsichord construction which had supplanted it.
I went to the Stonington, Connecticut Zuckermann workshop to learn firsthand about harpsichord building. It was a big shop then, evolving from prototyping and custom instrument work, to a full production facility with twelve or thirteen workers. John Bennett—Hyman's last apprentice—was shop foreman. Hinrich Müller was the cabinetmaker. It was a joyous time.
In the many months I was able to spend there during my extended visits throughout the 1980s, I developed a close rapport with my teacher. Like all sensei, David's teaching extended far and beyond harpsichords to encompass all of life itself. To the amazement of all, the distance between Stonington and Sydney fostered our harmonious relationship.
It was in those years that I first met Marc Ducornet, who had started working with David as the French agent in 1973, and by 1982 had become his business partner. Marc was establishing a workshop in Paris to produce instruments for the European market because the strength of the US dollar was limiting exports from Stonington.
David Way died suddenly in his workshop in February 1994, but the legacy of his work continues.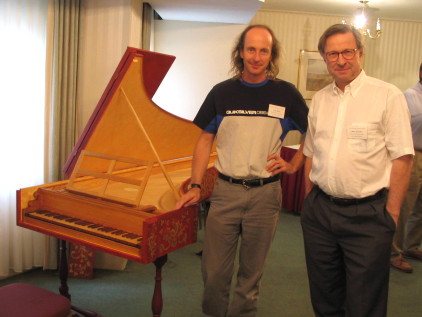 VICTOR LEE

Carey Beebe & Marc Ducornet
Boston Early Music Festival 2003

I guess it's because I don't do absolutely everything myself on the instruments I build and sign that even today some people might have the excuse not to think of me as a "real" harpsichord maker. I discovered quite early that I build better instruments by heading a team, gaining advantage by using materials I have initially prepared for me in Paris. If I find someone who does part of the construction better than I do, I pay them to do it. Only then will I feel able to make the very best instruments.
As a close working partner of Marc Ducornet, we travel together throughout the year, attending the major exhibitions like Yamanashi, London, Berlin and Boston. My collaboration with Marc brings me the finest materials selected from around the world. With constant research and improvement, the designs from Paris have supplanted previous industry leaders and in the space of a few years have become the standard by which other instruments are judged.
Adding to this primary relationship, I've developed a diverse network of fine craftspeople ranging from my soundboard artists, my upholsterer, the machinist who has been making our superb padded covers, to the engineer around the corner who makes the tuning hammers we now export to fellow makers and musicians around the world.
It's been a distinct privilege to work closely with some of the greatest musicians of our time using my instruments or services.
Mr Huang Xiaomiao,
Piano Technician at Xi'an Conservatory of Music
with Carey Beebe
China 1994
It's also a great pleasure—and an advantage—to be able to travel extensively for my work. Harpsichords have taken me from Beijing to Boston, Cape Town to Charleston, Helsinki to Hobart, Melbourne to Mumbai, Seoul to Stockstadt, and numerous ports between. This frequent travel enables me to keep in touch seeing how all sorts of instruments behave in the field, visiting other makers in their shops and often being there when they make their breakthroughs, and freely assisting my closest colleagues with exchange of ideas, resources and materials.
It's with a little satisfaction that I note each year brings more work for me in the "traditional" harpsichord areas of the world, although the Asia-Pacific region obviously remains my home base and centre of attention.
Those that have visited or know me realize there is no isolation in my working method. Rather, I enjoy feeling involved in a thriving and dynamic International business environment. It's in rather radical contrast to the false romantic notion that great instruments can only be created by solitary suffering artists in garrets or lone geniuses on mountain tops, so I hope that doesn't disappoint you. My large, modern workshop is on the edge of an industrial estate in suburban Peakhurst, within a stone's throw of the vast tract of George's River bushland about half an hour south of Sydney's centre.
The shop is always busy, and I welcome your visit by appointment to play the new or second-hand instruments in our showroom, and see what we are working on. I hope you will be able to put my instruments to the test soon, but in the meantime you can see some of the variety of my work by following the menu below. I invite your specific questions on any of the instruments, and welcome you to join my family of instrument owners, many of whom have become my closest friends.
Carey Beebe
---
---
---